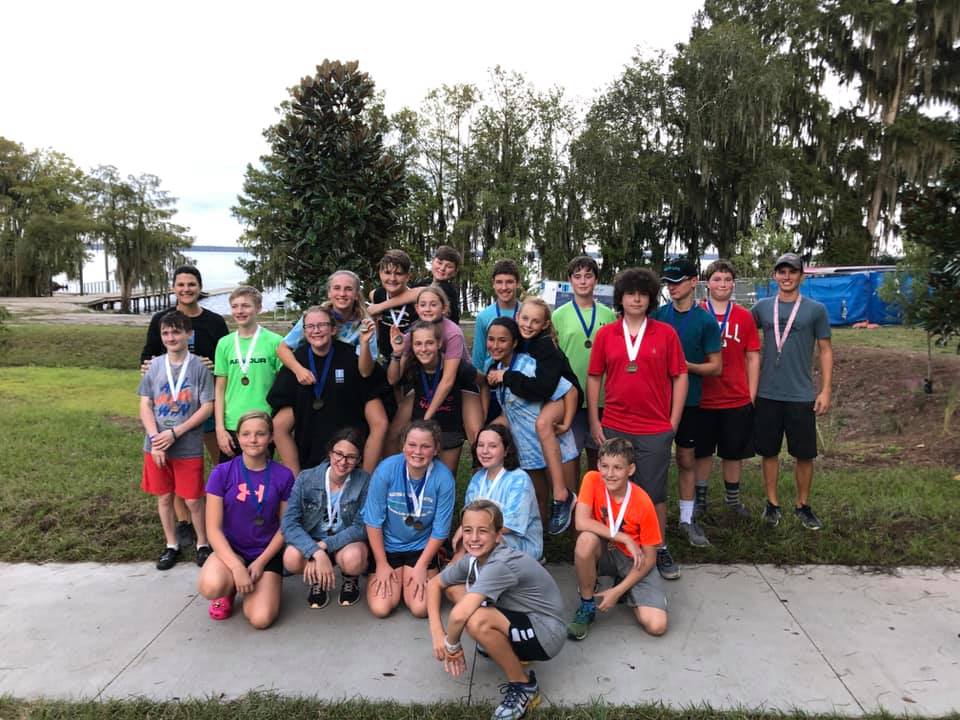 Gainesville Area Rowing offers a Middle School rowing program. The middle school sculling program is a fun way to enjoy the outdoors, get fit and make new friends!
Interested? Contact Coach Bob Van Twyver at headcoach@gainesvillearearowing.com.
The middle school sculling program is open to any middle school student. We teach them how to do sculling with two oars and sweep rowing with one oar. Our focus is to teach children how to row and be a member of a team and have fun getting in good shape. We do not require the rowers to compete although we offer several opportunities to race each season. Our seasons follow the school year and new rowers can begin at any time. We practice three times per week for two hours each. Practices are held on Tuesday, Wednesday and Thursday from 4:15-6:15 pm. The location of these practices will be at the GAR boathouse at Newnans Lake. For directions to the boathouse look at the bottom of any page on this website. Rowers are encouraged to wear shorts that aren't too baggy, t-shirts, socks, running shoes, and bring a water bottle. On days with cool weather we also recommend dressing in layers that aren't too baggy. We practice indoors at our facility when it is raining, very windy, or too cold to safely row on the water. We are always accepting new rowers and look forward to watching our team grow and row faster! Our program functions to provide a positive experience in rowing and preparation for our competitive high school program.
You are invited to start at any point during the season. No experience is necessary. Carpools work very well.
Dues and Costs
Dues – Middle School Dues, after that point, are $100.00 per month. Every new rower gets a two week trial period. No cost if they do not continue.
Club Dues Include:
Coaches fees
Equipment
Food at regattas
Boat transport to regattas
Race entry fees.
Looking forward to meeting all of our new rowers and welcoming back our returning rowers!
Our first day of practice for the 2023-24 season will be on Tuesday, September 5th from 4:15-6:15 PM!
Please go to the Members tab, select Forms, then find the appropriate forms to download and print. Sign your forms and bring them to practice.
Please also complete the "GAR Registration" which will get you registered in our accounting system and emergency contact database.